Our new Hincapie jersey and kit is now available to order!
The new jersey design (pictured below) is inspired by a jersey WAB developed back nearly 20 years ago as part of the 300th anniversary of Williamsburg.  A wide variety of cycling apparel options are available to order on the Hincapie WAB Storefront until May 22nd at 11:59 AM ET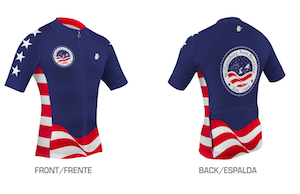 There are a few of the prior jersey (pictured below) still available, but very limited. The $53.50 price is available to WAB members only.  However, some of these prior club jerseys may be available at Conte's Bike Shop, at a higher price.  If you would like one of these prior jerseys, contact Dave Cosgrove at jersey@wabonline.org.