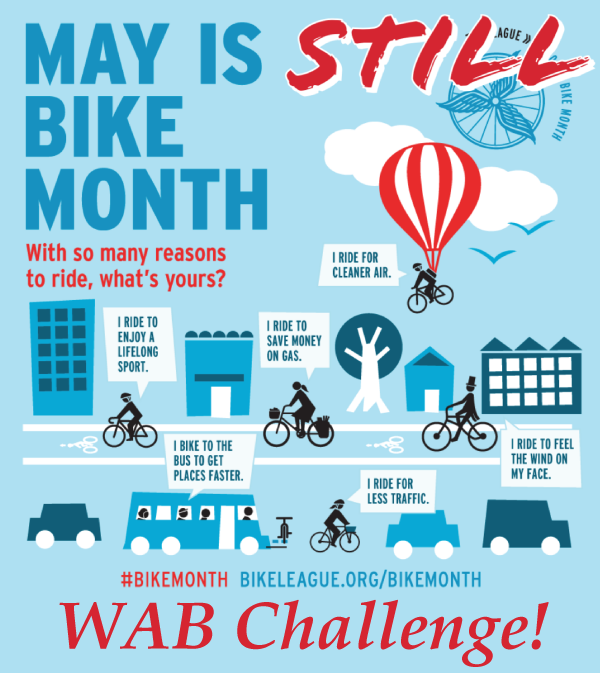 May is STILL Bike Month!
Even though we have to alter our normal riding practices, that does not mean that we can't still find creative ways to connect as a club and enjoy cycling!
As a way to accomplish these goals, we will be sponsoring a special "challenge" for the month of May!
Here's the scoop:
Send in your favorite routes:
Until the end of April, we ask that members nominate their favorite area cycling routes (up to three routes each). These routes must come from our Route Library, which is found on Ride With GPS (CLICK HERE), and mirrored to our WAB website (CLICK HERE) . Just send an email to webmaster@wabonline.org with the Ride With GPS Route Number (or the name) of the route you nominate. If your favorite route is not yet created in our library, just describe the route in the email and we will create the route in Ride With GPS and add it to our route library. NOTE: this is meant to be an all-inclusive challenge. The routes may be as short as 5 miles or as long as you like! The Favorite Routes with links to cue sheets will be listed on our website.
Ride the Routes in May:
During the month of May, members are challenged to ride as many unique Favorite Routes as you can. To get "credit" for riding a favorite route, simply send an email to webmaster@wabonline.org with a brief description of which route you rode and what you like best about it.  Include pictures if you can! Your reports will be posted on our website and possibly included in a future newsletter.  NOTE:  In accordance with the current social distancing restrictions, we encourage you to ride these routes either solo or with family.  
Prizes will be awarded as follows:
1. For the member who rode the most unique Favorite Rides - a one-year free Premium membership to Ride With GPS.
2. To the member who submitted the best Ride Report (as judged by your esteemed Board of Directors) - a $50 gift certificate to one of our local bike shops.
3. To the member who submitted the most favorite route (as determined by the number of others that rode this route) will also receive a $50 gift certificate. (Note: if multiple people submit the same favorite route, we will "draw from a hat" for this award.)
To see the list of Favorite Routes:
There are two ways - either through the website route library or directly on the Ride With GPS website.  NOTE: these show the favorites that have been nominated so far and will continue to grow until April 30th.
1.  On the WAB Website: Log in andgGo to the Route Library 

.  On the left side of the page, you will see a module titled "Club Favorites".  This is the list of all the routes that have been nominated so far by our members, organized by starting location.
2. On the Ride With GPS Website:  Go to the WAB Favorite Routes Collection.
Let me know if questions!
Rick Nevins
President, Williamsburg Area Bicyclists