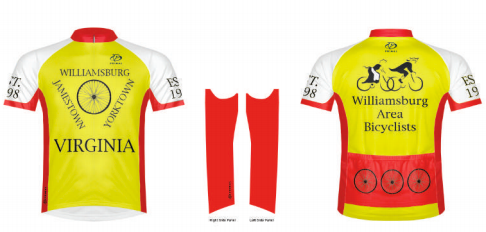 May 9th update:
In 2015, a new bike club jersey design was created and is shown above.  Periodically the club Jersey Coordinator orders a "batch" of jerseys from our supplier.  The frequency of these orders depends upon demand, since we need a minimum number of 10 jerseys to receive a discounted price.  The most recent order of 19 jerseys was placed April 14th & is expected to deliver mid June.  
There is another opportunity to order, because we are expecting to receive new orders through sales at the Pedal the Parkway & Cap to Cap events. The $53.50 price is available to WAB members only.  However, some of these new club jerseys may be available at Conte's Bike Shop, at a higher price.
If you missed out on one of these orders, but would like a jersey, please contact Dave Cosgrove at jersey@wabonline.org.  
The jerseys, custom made by Primal Wear to high standards, feature the Colonial Riders from our official logo, "Williamsburg Area Bicyclists", and three lower pockets each with a wheel design on the back. The front has a triangle of "Williamsburg, Jamestown, Yorktown", with a bicycle wheel in the center, and "Virginia" in large letters. The colors are bright yellow, with red trim, and white sleeves showing "Est. 1998".
These attractive cycling jerseys are designed to feature our local area. The bright colors should be highly visible to oncoming vehicles. Unisex sizes include Extra Small, Small, Medium, Large, Extra Large, and Double Extra Large.